Get Traffic to your blog
Traffic is maybe the most important parameter of you blog. The more people find your blog, the more people read your articles. And you know by now, readers = earnings.

So, you need to get traffic to your blog, but how? There are several ways to drive traffic to your blog, try out a few of them to get maximum results. Having more readers will encourage you to post better content, which will in turn encourage more people to read your articles.
1. Tweak your content
Choose a catchy and descriptive title.
Organise your posts/sites well.
Focus on your design (sometimes, less is more!)
Find popular blogs in your niche, and emulate their ways.
Images are always good!
Don't cluster your blog, give the viewer some breathing room (less is more)

Link to your old posts in your new ones.

Use proper grammar and spelling.

Post content regularly
2. Social Media
Social media is becoming the most effective way to promote your blog/website. Everyone is using facebook and whatnot!
Don't be scared of this step, open an account for your new project on facebook and twitter. Add, share, like, spread.
Social Media platforms:
Facebook
Twitter
Pinterest
Instagram
Reddit
LinkedIn
Google+
Tumblr
Managing all your Social Media accounts can be a real pain in the ass. Especially if you have multiple accounts on all the platforms. This is where SMM (Social Media Management) Tools come in. They help you organize and manage all accounts through one software. Without tools like this, Managing social accounts would be a full time job in of itself.
The most used SMM software is BuzzBundle, I could not work without it. If you are struggling to manage all your Social Media Accounts, you might enjoy my BuzzBundle Review.
3. SEO
SEO = Search Engine Optimization
Showing up on Google and other search-engines is critical for your website! If you want to increase the traffic to your blog, you want to show up on Gooogle search!

To optimize your rank on google and co, you want to practice some SEO.
The search-engines determine your rank by different criteria:
The quality and amount of your content,

your level of optimization,

your Pagerank (google: pagerank)

The amount of backlinks (=links to your website)
You should install a proper wordpress plugin that helps you place the right keywords in the right places on your blog. (google for YOAST SEO plugin!)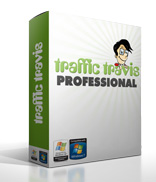 If you want to make things professional and take SEO on a new level, try a professional SEO software. They are simple to use and do a lot of work for you.
This software has a free version that has a lot of features for the start.

4. Paid advertising
If you have some money to spend, you should definitely consider paying for some ads. Paid advertising will obviously greatly increase your blog traffic, but you'll have to pay for it. So you better make sure you get that money back with ads or affiliate offers on your website! (famous website to post your add on any blog you want is: buysellads.com)

5. Patience is a virtue
Search engines need time to index new websites and blogs. It takes time to index all your content. Focus on adding quality content and be patient.
6. Freetechniques
There are lots of free techiques to increase your blogs traffic. Some of it are:
bloggvertise.com

chat rooms

drop flyers

forums

Youtube

Free ads

google groups

blog communities

7. Other methods
Many blogs allow readers to post a comment, use this to your advantage! Go on google and look for every blog related to your topic, post a meaningful comment and reference to your blog!
Connect with other bloggers who blog about similar things, these connections can be very valuable. Maybe exchange links to each others blogs. These links will increase your ranking in google and thus increase the traffic to your blog.

Start today, and stay on it, high traffic doesn't come overnight!
8. CAUTION:
Don't get tricked by traffic sellers promising thousands visits an hour. It will increase your views in Google Analytics, but these are only pings, no one is actually reading your website!

Don't use illegal or so called "black hat" methods to increase your SEO ranking, these only work temporarily. You want your blog to have long term, quality traffic for good and legal income.
Avoid spamming. If you lose your credibility, you will lose your hard earned traffic.
Don't steal content. Google notices copied articles. Make sure you put in your own content, or give credit to the writer.
Hopefully these tricks can help you to get traffic to your blog. Increase your blog visitors, start today and implement all those tips to increase your blog traffic!
9. Links
Great article on wikihow on getting blog traffic

Great SEO software, If you start earning more money, consider using the PRO version.


Great article on wikihow on getting blog traffic